Hey there! How are you? I'm Rodrigo Santos, founder of Racing Car Dynamics. If you ever wondered:
"How engineering is used to make race cars faster?"

"What are the factors that make a car quicker?"

"What all those engineers in F1 weekends are doing there? How are they helping the drivers?"

"How the simulations that so many people talk about work? How are they helpful?"

… Then you are in the right place.

RODRIGO SANTOS – THE ENGINEER

Before I tell you what Racing Car Dynamics is all about, let me introduce my background in motorsport. I am a hard working engineer, with great enthusiasm for vehicle dynamics and I am currently consolidating a career in racing. I've worked in a wide range of opportunities, including:

Performance Solutions, working as Vehicle Dynamics Simulation Engineer, doing lap time simulation and data analysis work of cars in the FIA World Rallycross Championship;

Walker Motorsport, a former team in Lotus Cup Europe, working as a Performance Engineer, doing data analysis, race car setup and driver orientation work;

JL Racing Products, working in the design of components of race cars;

Currently I offer consulting work in vehicle dynamics applied to motorsport.

I also sporadically offer a 5-day course in vehicle dynamics applied to racing (currently offered only in Brazil), having served people from 11 states in Brazil. Here are some pictures of the my lectures:
CHECK HOW RACING CAR DYNAMICS CAN HELP YOU TO UNDERSTAND MOTORSPORT ENGINEERING BETTER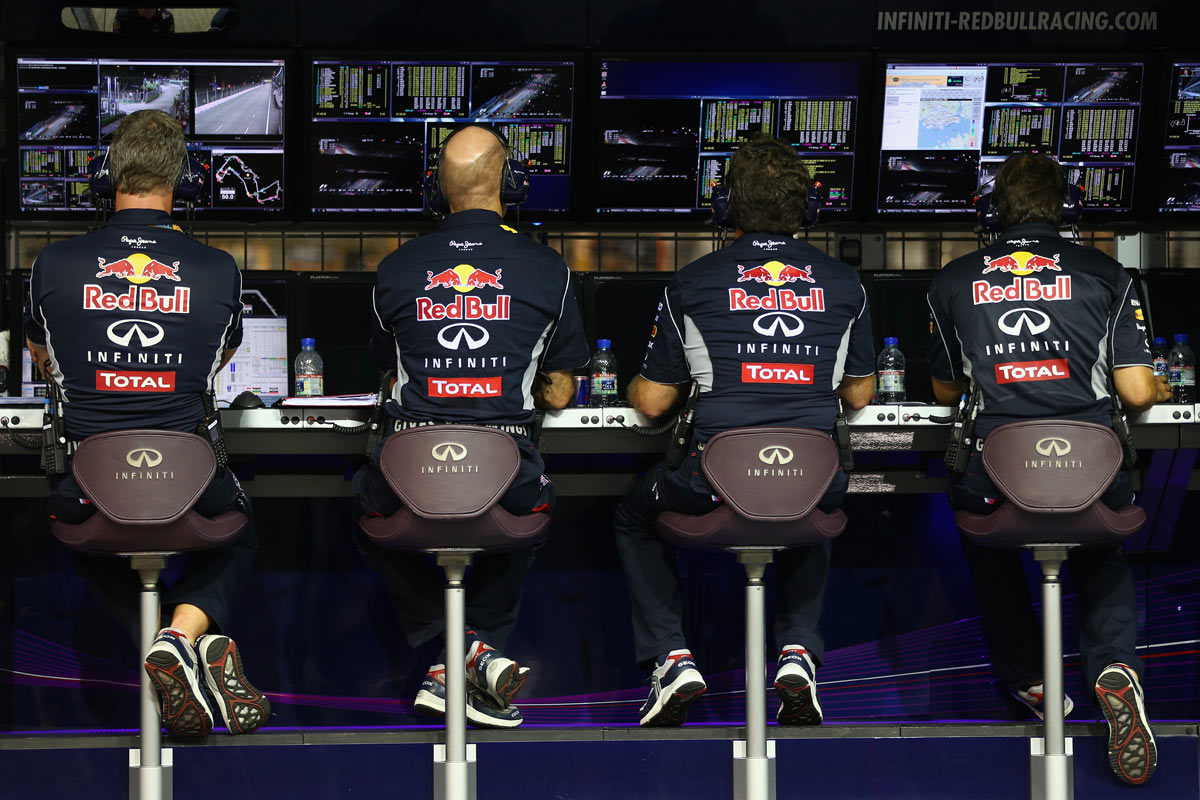 Photo: LaF1.es

There are multiple resources on vehicle dynamics of race cars, and on motorsport engineering in general. However, some of these resources have too much of a formal approach, and sometimes not presenting a thorough thought process, making it difficult for students to easily understand the subjects.

Also, most of these resources are printed, meaning that they have no other kind of media but pictures (which are usually black and white). I know Milliken & Milliken's bible (Racing Car Vehicle Dynamics) is the absolute resource for vehicle dynamics, but it can't show you a point through videos or animations, nor it has coloured graphs!



Racing Car Dynamics was created with the mission of being a motorsport engineering resource that is both, simple to understand and graphically appealing. Here, I will try to explain the principles of vehicle dynamics, data analysis and race car simulation with more of a relaxed approach, not being afraid of making it a conversation with you. I will also use all the media I can to make it easier for you to understand the concepts that I address here.

Also, I believe that in order to be good in something, you must understand that thing in its most fundamental levels. A good race engineer is not one who applies the correct setup changes to a race car, but the one that knows WHY that change must be applied, and by HOW MUCH that change will affect the car. In terms of Motorsport Engineering, the following principle always applies:

"Win. Know Why. Win Again."

This is why I address things here starting from the most basic levels and then build it up to more complex levels, and I try to be as simple and clear in writing as possible. We are not in a hurry. As a result, Racing Car Dynamics has achieved in a bit more than three years the following numbers:

Over 2000 followers on social media;

Over 2000 subscriptions to our e-mail newsletter;

Since June 2015, the new articles have achieved an average of 100+ Facebook likes per article.

Oh, and there is positive feedback too:


Tweet from user @syammim_rnh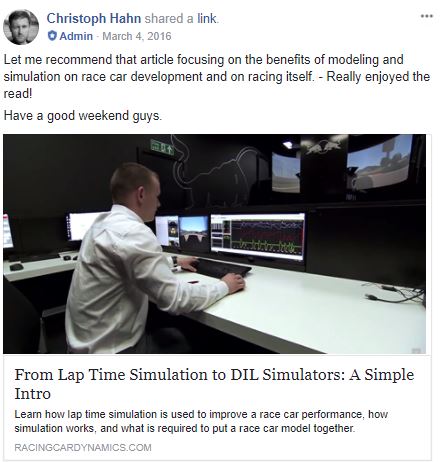 Post from Christoph Hahn, from MATLAB and Simulink Racing Lounge

Comment from Matt Covert, from Racers HQ

I'm proud to say that I helped a lot of people to better understand vehicle dynamics and motorsport engineering, branches of engineering that I truly love, through Racing Car Dynamics. I think the secret to RCD's success is that I'm just like its readers. We are all passionate about race cars and their engineering, and we all want to understand better what makes them fast and how to make them faster.

That's why I'm here. Just like you, I know how hard it is to learn a new subject from scratch, and how much effort you have to put into organising the content from so many resources in order to make the best sense of them. Don't worry, I've walked the path from engineering school to being able to design a race car, simulate its systems and analyse data from it, so I know the pains along the way very well.

That's why I created the content presented here, and tried my best to organise it in a way that will make the painful bits less painful. The thing that I like most about the articles in this website is that I could mix what I learned from the books, with the experience that I have from working in the Motorsport Industry, combining elements from a broad range of experiences to produce something unique.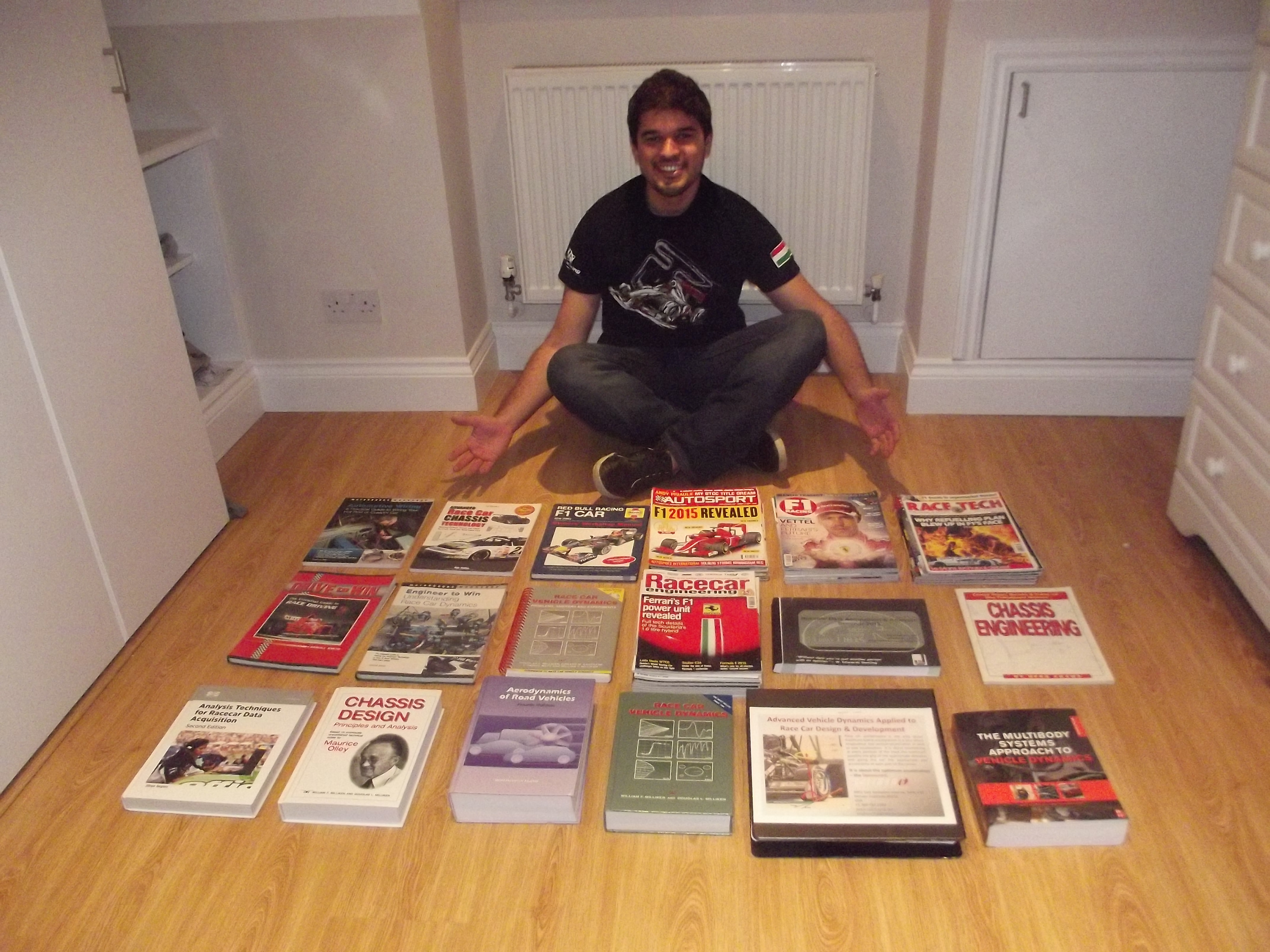 This is my little library… Milliken, Segers, Hucho, Blundell & Harty, Olley, Carroll Smith… they're all there.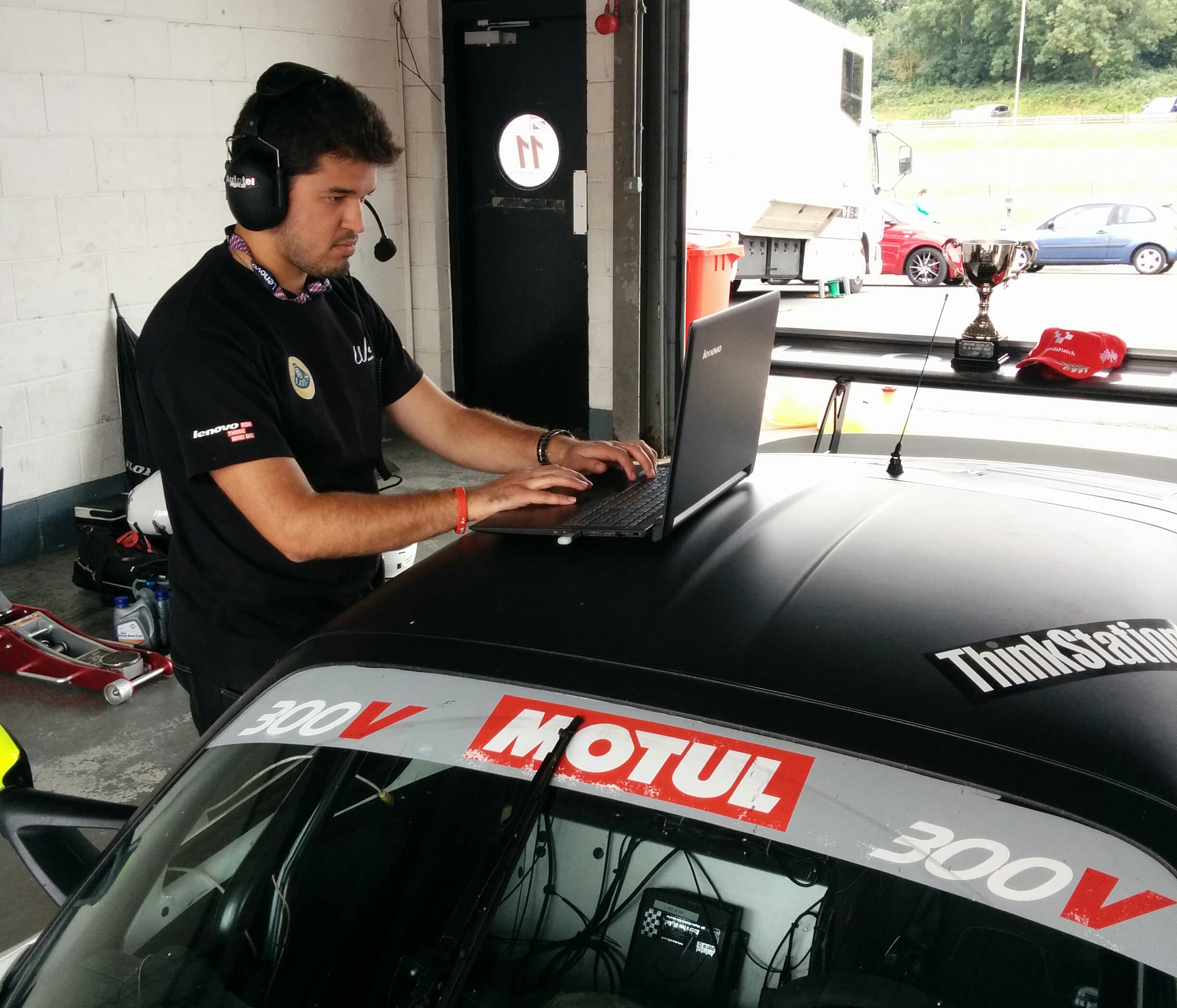 That's me at Brands Hatch, during one of the rounds of Lotus Cup Europe.
Do you wanna learn vehicle dynamics and motorsport engineering in a simple way?
Then enter your e-mail below, and be the first to receive updates.

KEEP UP TO DATE
Insert your e-mail here to receive free updates from this blog!
RODRIGO SANTOS – THE PERSON
I have always loved cars. When I turned 10, I asked my father which profession I should choose in order to make cars, and he told me I should study Engineering. It was then when I chose what I wanted to do for a living.

As I needed to get as much as practical experience as possible, I joined Baja SAE project as soon as I entered engineering school with Mangue Baja UFPE Team, where students design and build an off-road race car.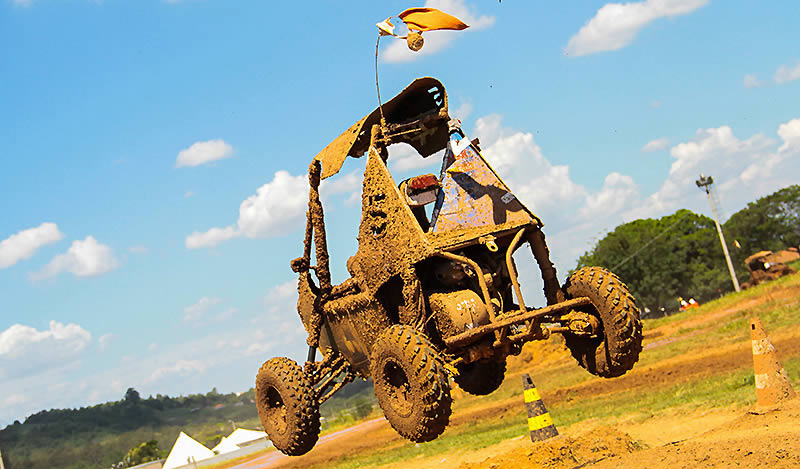 This is our monster, The King. Proud 2014 National Champion!

At this point, I used to think that I would pursue a career in the automotive industry. But then after my first race with Baja, I just felt that I couldn't live without the competitive environment, the challenge of improving the car in a fast paced fashion and, more than anything, the thrill that I felt before that race (which by the way, I still feel before each race I take part today). It was just like if the universe was telling me:

You can't be happy if your life is not about racing

It was then, when I decided that I wanted to work with motorsport for the rest of my life. After that, I spent four years on Baja, working in different groups in the team, which gave me a broad range of experiences. I discovered my love for vehicle dynamics after being the coordinator of the suspension and steering of the team, and that experience was a real game changer.

After reading a website with advice on how to build a career in racing, I learned that I needed to hone my skills at smaller categories, and then progress up to the higher levels of the sport. At this point, I was offered a placement at the company which built these race cars: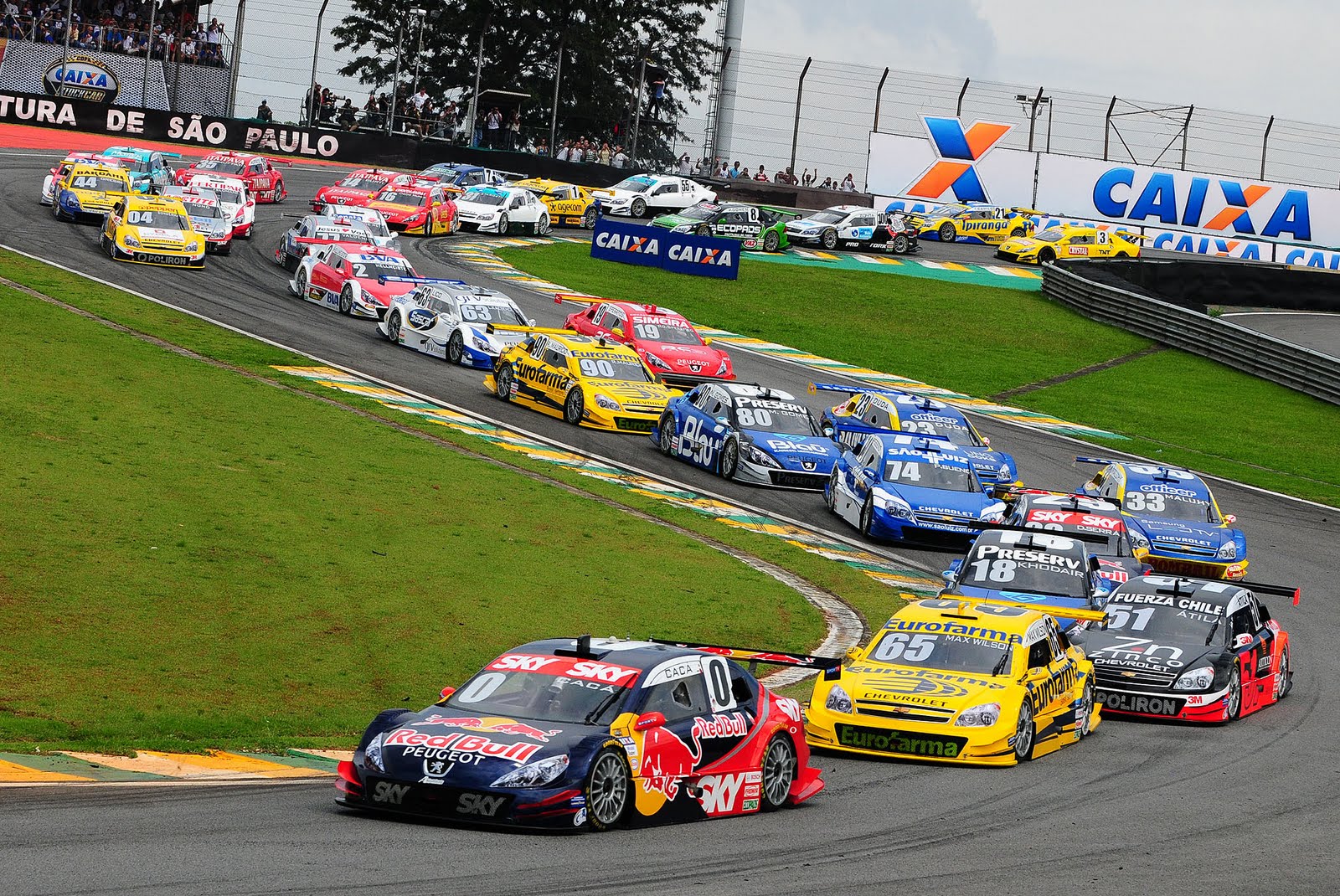 Aren't they awesome?

I won't lie, this opportunity terrified me initially. I would live 2300 km away from my family and friends, and didn't know if I would be able to pay the bills with the salary I would earn. But then I realised that that opportunity would be the first step to build my career dream, and I couldn't let it go.

That placement was an arduous trial. I used to work more than 11 hours a day on a regular basis, with little regard to sleeping hours, since it took me two hours to get to work every day. But you know what? I loved every second of it! I couldn't even describe how much I learned there, and how much I enjoyed working in that environment.

After I finished my placement, I got a scholarship to study in the United Kingdom, doing a Motorsport Engineering course in Coventry University.

At the time I was trying to narrow my experiences towards vehicle dynamics, and after some research, I discovered that simulation and data acquisition skills are key in any role in this area. At the same time, I started publishing Racing Car Dynamics, and I was hoping to use it to leverage new opportunities to develop my skills.

That was a hard time as well. I e-mailed over 30 motorsport teams offering to do unpaid work for them, but even giving them a sample of the projects I was involved with in Coventry University, I wasn't able to get anything.

I was lost.

How could I possibly make a living out of motorsport, if I couldn't even find unpaid work opportunities?

But you know what? I kept trying.

I kept working hard with the projects in university, and as soon as I came back home every day, I would spend countless hours studying all aspects of vehicle dynamics that I had access to. Then I would write articles about the things that I've learned, learning even more. It was an arduous cycle. But as much as it was difficult, it was also fascinating. Every new thing that I learned made me more excited to learn more, and I kept going.

I also attended several seminars, and in one of them, the lecturer, Jörge Segers, told me that he had already seen Racing Car Dynamics, and that he actually enjoyed the content here! I couldn't be happier! He was even kind enough to autograph my copy of his book, Analysis Techniques for Racecar Data Acquisition.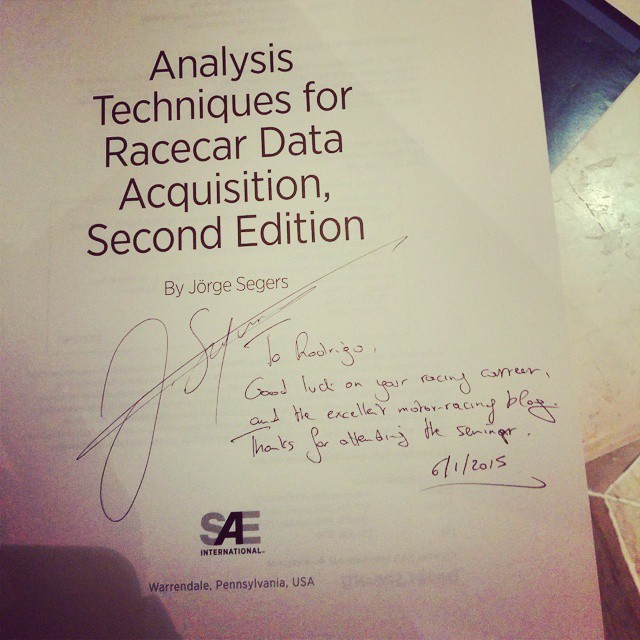 "To Rodrigo, Good luck on your racing career and the excellent motor-racing blog."

Eventually, all my hard work paid off, as the owner of one of the teams in Lotus Cup Europe saw the articles in Racing Car Dynamics, and offered me a work opportunity with his team. I can't describe how happy I felt by getting this opportunity. I felt like I've never learned as much as I had with this opportunity.


Ah, another important thing to mention! After some experience in Lotus Cup Europe and all the range of projects that I was involved with in uni, I managed to be in the European Final of Infiniti Performance Engineering Academy! This is a program aimed at finding the best engineering talent in the world to work for Red Bull Racing (yes, Formula One!) and Infiniti Motor Company! That means that a Formula One team has considered me one of the ten best prospect engineering talents in Europe!


I've come very far since I started my journey in motorsport. This journey has changed who I am, and now I'm here to share what I've learned along the way with you!

So even if you don't want to make a career in motorsport, I would like to make an invitation to you.

Enter your e-mail below and join a community of clever enthusiasts, and learn race engineering in a simple way.

KEEP UP TO DATE
Insert your e-mail here to receive free updates from this website!

Also, you can follow Racing Car Dynamics on Facebook or Twitter.

Information confidentiality
All the information presented in this blog was acquired through research in open knowledge databases (i.e. books, published papers and websites) available to everybody willing to access them. I have absolutely no intention to share intellectual property, data or otherwise knowledge belonging to the companies I have worked or will work with. I may share material related to the personal projects in which I am involved, but never material regarding confidential info.

Thank you for visiting Race Car Dynamics, I hope you enjoy!